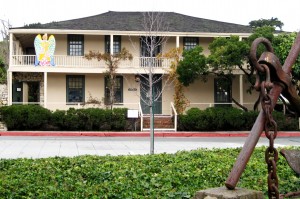 Thomas Oliver Larkin was 30 years old when he arrived in Monterey in April 1832. Larkin came from Boston intending to work with his half-brother Captain John Cooper, as a clerk in Cooper's store. The voyage of the Newcastle from Boston took seven months, around Cape Horn to the Sandwich Islands and to San Francisco before finally reaching Monterey.
Larkin's cruise was doubtless made more pleasurable by the presence of Mrs. Rachel Holmes. Mrs. Holmes was also an American, en route to Monterey to meet her husband, a sea captain and international trader. Captain Holmes had sailed to Peru just prior to his wife's arrival; his absence encouraged Tom and Rachel to continue the romance kindled aboard the Newcastle. Rachel's subsequent pregnancy complicated matters, but she learned in October of her husband's death.The couple's illegitimate daughter Isabel was baptized a Catholic in the mission of Santa Barbara in January, despite her parents being Protestant.
Thomas Larkin and Rachel Holmes were married at sea in June 1833 by the American Consul to Hawaii. It was many years later that Larkin learned that Consuls possess no authority to conduct marriages, but by then the Larkins were a large and growing family.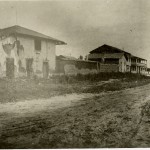 It wasn't long before Larkin established his own business, aided by Rachel and Captain Holmes' former accounts. Well liked and well respected , Larkin became a prosperous merchant and a developer of real estate in Monterey, San Francisco, and elsewhere in California. Unlike Cooper and others who became citizens of Mexico after coming to California, Larkin remained an American.
As an American, Thomas Larkin gained additional prominence as the only American Consul to Alta California, representing the United States to the Republic of Mexico for diplomatic affairs in California. When the United States seized California in 1846, Larkin was named "Confidential Agent in California" to President Polk. Larkin played a key role in the American acquisition of California and his flourish is the most prominent of the 48 signatures on the California Constitution.
Upon completion in 1835, Larkin's was the first two-story house in Monterey and among the first two-story buildings in California. Adapting the New England colonial style to local building materials, Larkin established "Monterey colonial", a style now ubiquitous throughout Monterey and California. The house also featured one of the first indoor staircases in California.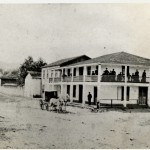 In addition to a home and store, the building served as a government and military headquarters and a popular social gathering spot. Larkin sold the house moved to San Francisco in 1849. In 1922 Larkin's granddaughter, Alice Larkin Toulmin, bought and restored the house, and furnished it with valuable furniture and antiques. Toulmin granted the house to California State Parks in the 1950′s.
Larkin House and surroundings are popular with visitors. Although the house is open to the public only a few hours each week, visitors can still peer into the parlor, explore the garden, and view the interior of the Sherman Quarters next door.
Photos courtesy of the author and Mayo Hayes O'Donnell Library.