A series of bronze plaques leads visitors up the walkway to Colton Hall in Monterey, site of the state's Constitutional Convention. At the top of the walkway, directly in front of the entrance to Colton Hall, lies a bas relief of the Great Seal of the State of California.
Convention delegates approved the Great Seal's design in September 1849.
31 stars adorn the crest of the seal, representing the 31 states expected after California's admission. Below the stars is the word Eureka -"I have found it" – the state's motto, a likely reference to the discovery of gold.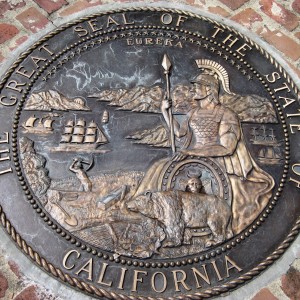 Great ships sail through the Golden Gate to San Francisco Bay, bringing commerce and new immigrants. Sierra Nevada peaks tower in the distance, guarding vast deposits of gold. In the foreground 49ers search for wealth along the Sacramento River.
Most prominent is the figure of Minerva, Roman goddess of wisdom. According to mythology Minerva was born fully grown, leaping from the head of her father Jupiter. Similarly, California achieved statehood without first becoming a territory. Minerva's shield displays the hideous head of Medusa.
Grapes, a sheaf of wheat and a grizzly bear boast of the state's rich and diverse agriculture, flora and fauna.
The Great Seal of the State of California owes its design to Robert S. Garnett, a US Army Artillery Major, temporarily stationed in Monterey at the time of the Convention. Garnett, worried about divisions between military and civilian authorities, was reluctant to submit his design. Garnett gave his blessing and design to Caleb Lyon, Clerk of the Convention, who submitted it to the body for approval. Some minor details were changed with redesigns in subsequent years but today's Great Seal is virtually the same as Garnett's design.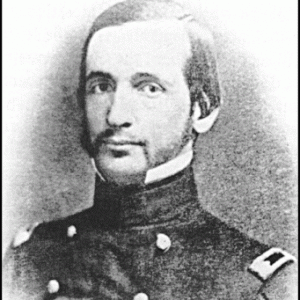 Garnett was a West Point graduate and a proud Virginian. Pledging his allegiance to the Confederacy , Garnett owns the distinction of being the first of more than 120 General Officers killed in the Civil War. Garnett met his end in what is now the state of West Virginia in 1861. His cousin Richard Garnett, also a West Point graduate and Confederate general, was killed at Gettysburg.
In front of Colton Hall, just a few yards from the Great Seal embedded at the base of the steps, a plaque dedicated to Garnett was placed by the General Robert S. Garnett Chapter of the United Daughters of the Confederacy, Fairfield, California,  in 1957. 
The plaque read: " The Great Seal of the State of California, designed by Major Robert Selden Garnett, US Army, and adopted by the Constitutional Convention at Monterey, commissioned a brigadier general in the Confederate States Army , he was killed in West Virginia in 1861, the first general officer to fall in the War between the States."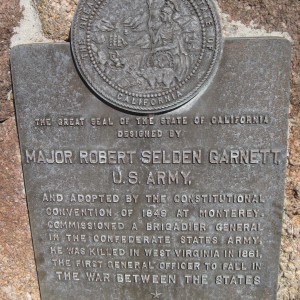 In response to a swell of public outcry in 2017, the country re-evaluated the display of Confederate  symbols, memorials and statues. The plaque from the UDC was quietly removed and replaced with a more generic one.
"The Great Seal of the State of California designed by Major Robert Selden Garnett, US Army, Presidio of Monterey, and adopted by the Constitutional Convention of 1849 in Monterey."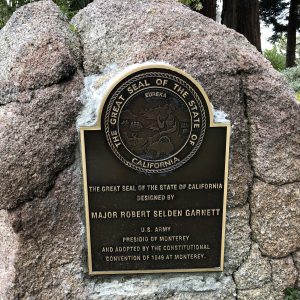 Photos by author and Mayo Hayes O'Donnell Library